United Community is a community-wide initiative to deploy an innovative shared technology platform to initiate and close referrals across many organizations. It reduces barriers to access for citizens by streamlining navigation across the multitude of services offered by our health, education and human services sectors. The platform enables seamless referrals between agencies to meet a variety of essential needs. United Community will be a robust community service coordination system that will improve the life outcomes of our most vulnerable children, individuals and families across Louisville by facilitating integrated, multi-dimensional support efficiently.
The United Community shared data platform serves:
Students who fall off track because of social needs and connect them and their families to the appropriate services.
Individuals struggling with everything from addiction to job services are connected via a "warm handoff" to wraparound supports to help them overcome barriers to wellbeing.
Caseworkers and physicians who need to share vital information about individuals' needs, choices and living situations that could impact their ability to receive the care they need to become or stay healthy.
Community leaders who want visibility into the number and types of services most needed and where gaps exist in available resources.
United Community Goals
Develop a connected, collaborative, community-wide system to coordinate care and services across sectors to address all social determinants of health/education, and offer real-time tracking and reporting.
Measurably improve health, education and wellbeing outcomes by coordinating the delivery of health and social services among high needs children, individuals and families.
Create "no wrong door" system whereby individuals are channeled to appropriate services based on their unique needs across the health, education and social service sectors, including tracking of client outcomes after referrals to services are made.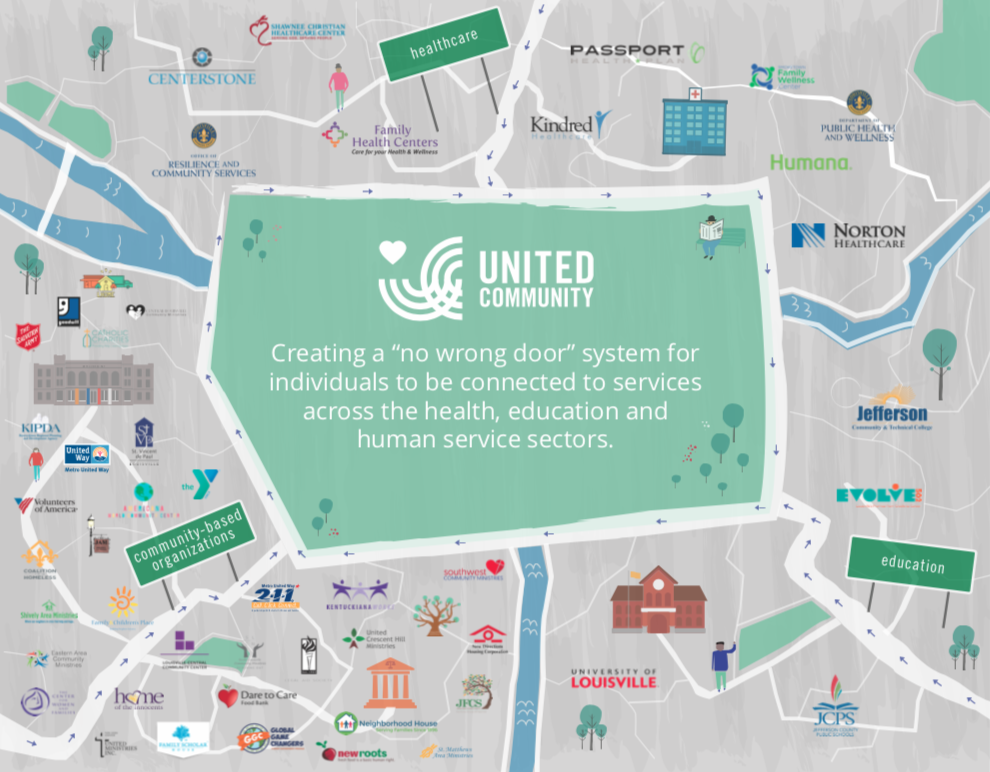 United Community will provide the foundation for a connected community support system that improves the life outcomes of children, individuals and families across Louisville and the region by facilitating integrated, multidimensional supports for our most vulnerable.
EFFICIENCY IMPROVEMENT:
Based on data from Charlotte, N.C., from United Community platform partner, Unite US
10.8 day decrease in intake and client referral

4.6 day decrease in time taken to make a meaningful connection.

29.4 day decrease in time to close a referral
Invest in United Community
MADE POSSIBLE BY THE GENEROUS SUPPORT OF:
FOR ADDITIONAL INFORMATION
For any additional information, please email DeWana Hadder – Director, United Community.