Child Care Assistance Program FAQ
Child care is essential for Kentucky families to thrive. With annual costs reaching up to $11,000, however, families across Kentucky are struggling to pay for child care.
The Child Care Assistance Program (CCAP) helps eligible families pay for child care, providing vital support to families with young children. Despite how vital the program is, very few eligible families are participating in the program and applying for and participating in the program can be confusing.
With more families now eligible for CCAP, we wanted to create a resource to help families navigate CCAP, from the application to the recertification process. This FAQ is designed with families in mind, and we hope it helps you answer any questions you may have about the program. If you have additional questions, please submit those HERE.
Qualifications
What is the Child Care Assistance Program?
The Child Care Assistance Program helps low-income families who are actively searching for work or working pay for childcare.
What are the qualifications to receive CCAP benefits? Once approved, what are the qualifications to continue receiving CCAP benefits? 
To qualify for CCAP benefits, a family must reside in Kentucky, have a child younger than 13, live within 85% of State Median Income (see chart below), and be one of the following:

Employed working an average of 20 hours a week as a single parent or working an average of 40 hours a week as a couple;
A full-time student enrolled in a certified trade school, college or university;
Enrolled in the K-TAP KentuckyWorks Program or the SNAP Employment and Training Program.
Unemployed, but participating in the three month Job Search period

DCC-90P Job Search Documentation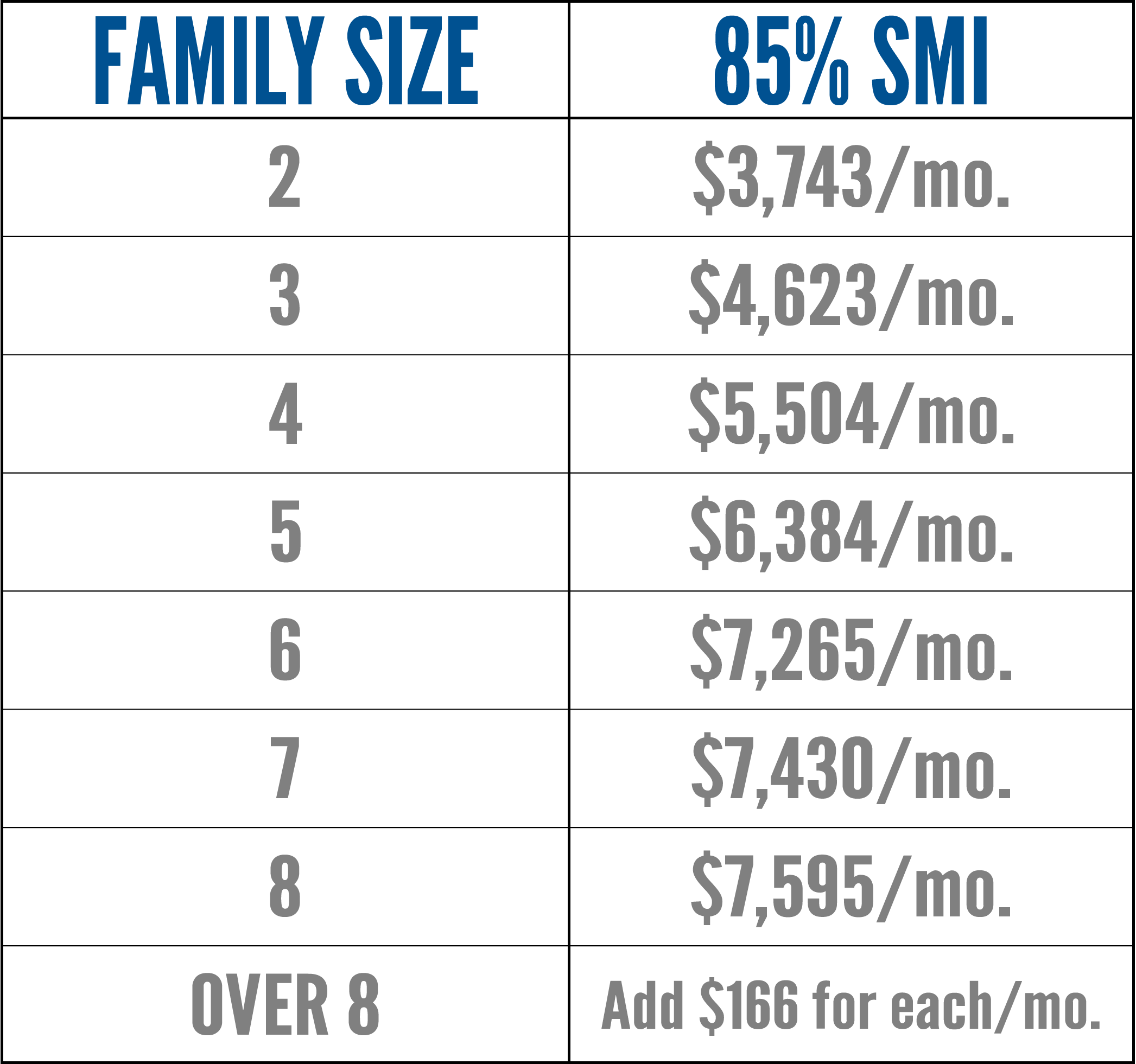 Teen parents enrolled in high school or GED classes and families involved with the Division of Protection and Permanency (P&P) can participate in CCAP regardless of income.
To continue participating in CCAP, families must have a child who is younger than 13, live within 85% of the State Median Income, and continue to meet the CCAP eligibility requirements.
I am not a U.S. Citizen. Can I still receive CCAP benefits for my child?
A child must be a U.S. Citizen or qualified immigrant to receive CCAP. However, adults in the home do not have to be U.S. citizens or qualified immigrants to receive CCAP for their children.

A qualified immigrant is someone who has permanent resident status or has been granted asylum.

Your child does not need a Social Security Number to apply for CCAP benefits.
Does a foster/kinship care placement qualify for CCAP?
Children in foster care are not eligible for CCAP; however, child care assistance is available to children in foster care. Foster parents that need child care should talk with their case worker.
Kinship families may qualify for CCAP if they meet eligibility requirements.
My family is homeless. Can I apply for CCAP?
Families who are homeless, provide an ID, and report meeting the requirements for CCAP are eligible for immediate CCAP approval.

ID's can be a driver's license, student ID, military ID, or two other forms of verification.

Benefits will begin immediately, and homeless families will have three months from the date of application to provide the Kentucky Department of Community Based Services (DCBS) with all the necessary documentation for approval.
Homeless families who do not provide documentation within three months from the date of application will be deemed ineligible, and their CCAP case will close.
Application
What documents and paperwork will CCAP applicants need to send to the Cabinet for Health and Family Services (CHFS) in order to have their application processed?
ID for Heads of Household, such as:

Driver's License
Student ID
Military ID
Two other forms of verification.

Birth Verification:

Birth Certificate for those receiving benefits
Hospital birth record for those receiving benefits

Proof of Residency and Household Composition, such as:

Current lease
Written statement from someone who knows the family but does not live in the household.
Tax records

Earned Income Documentation, including but not limited to:

W2
Paystub
Letter from your employer verifying your income

Unearned Income Documentation, including but not limited to:

Child support award letters
Current award letters

Social Security (requested, but not required)
Proof of Educational Enrollment (if you are a full-time student), including but not limited to:

School records or transcript
Verification of enrollment
"CC" with the school's admission office

Proof of Citizenship, Immigration Status Documentation, or Refugee Status for those Receiving Benefits

NOTE: Parents do not need to provide proof of their citizenship or immigration status.
How long does it typically take for CCAP applications to be processed?
CCAP applications will be processed within 30 days of being submitted.
CHFS will notify families of their application status by letter of through the Kynect system.
If you have not heard an update on your application status within 30 days of submission, please contact DCBS at (502)564-3440.
What is the job search period?
The job search period is a three month period from the date of initial CCAP application during which families can receive CCAP if they are actively seeking employment.

If a family is unable to find a job during this three month period, they will be deemed ineligible and their CCAP case will close.
The job search period, at initial application, can only be used once in a 12 month period.
Applicants begin the job search period by filling out the DCC-90P Job Search Documentation form.
If I apply but do not use the program right away, do I lose the job search period?
Once the Job Search option is initiated, it is considered used. The start date for the Job Search period begins on the date of the initial application.
My spouse is currently incarcerated. Will they be counted as part of my household?
Incarcerated individuals are not included in household determinations.
I receive other public benefits. Will this impact my ability to receive CCAP?
No – benefits received from SNAP, SSI, K-TAP, and other benefits programs administered by the Cabinet for Health and Family Services do not impact your ability to receive CCAP benefits.
Why is it important to share a child's disability status (special needs) on my CCAP application? What proof of this status do I need to provide?
Children with special needs are eligible for CCAP until they are 19.
To prove a child's disability status, families can provide:

A diagnosis from a qualified health professional, such as a child's pediatrician or a mental health professional.
A court order
An Individual Education Program (IEP) provided by a child's school
An award letter for Supplemental Security Income (SSI) benefits
I share custody of my child with another parent, and we both need child care. Do we have to apply for CCAP separately?
Parents who share custody of a child must file for CCAP assistance separately. When applying, you must indicate what days the child is with you.
Receiving Benefits
Can I use CCAP for any child care program? Can I use CCAP for multiple childcare programs?
Providers must be Licensed, Certified or Registered with the Kentucky Division of Child Care (DCC). They must accept CCAP subsidy payments and be approved by the Division of Child Care.
CCAP can be used at multiple childcare programs.
I received CCAP but am having trouble finding a childcare center. What resources are available?
There are several resources families can use to identify childcare providers:
How does an applicant estimate what their copay will be?
Copays are currently waived for families as a result of federal COVID-19 pandemic relief funding. When this funding runs out, DCC will notify families and copayments will resume.
Families can estimate their copay by looking at this chart
If a family receives CCAP as a result of a Protection and Permanency Case, copays may be waived.
Does the child care assistance backdate to the application date or does it start after the benefit is processed and the contract is received?
If approved, CCAP eligibility begins on the date of application.
Providers will receive payment covering the period from the date of application to the date of approval.
Where can I learn about changes and updates in my CCAP case?
Kynect will alert families about updates and changes to their case. Families should be checking Kynect on a regular basis to ensure they do not miss any updates.
Occasionally, DCBS will mail families about updates to their case. Families should check their mail regularly and ensure their address on file is accurate.
Recertification + Change Reporting
What is recertification?
The process by which CHFS determines if you are still eligible for the program based on any changes in your work status and income.
How often will I need to recertify my benefits?
Families will have to recertify for CCAP on a yearly basis.
How do I recertify? What documentation will I need to recertify?
Families can recertify for CCAP by calling DCBS or visiting a local DCBS office to set up an interview.
Recertification will look very similar to the interview process you do when you initially get CCAP.
To recertify, you will have to have the following documents:

Proof of Identification:Driver's License, State Issued Photo ID, Military ID
Birth Verification:KVETS, Birth Certificate, Hospital Birth Records
Earned Income:PAFS-700, Wage Stubs, Written Statements (from employer)
Self-Employments:Tax Returns (with Schedule C), Business Records, Work Logs, Written Statements
Unearned Income:Current Award Letters
Household Composition & Residency:PAFS-76, Current Lease (must list everyone living in the home), Written Statements
Zero Income:PAFS-702, Written Statement
What is change reporting?
Change reporting is the process of alerting DCBS of any changes that may impact your CCAP benefits.
All changes have to be reported to CHFS within 10 days of the change happening. If a family fails to alert the Cabinet of a change within 10 days, they can risk losing benefits or being charged with fraud.
What changes do I have to report to CHFS?
Beginning or ending employment
Change in an employer
Increase or decrease in the number of work hours
Increase or decrease in the rate of pay
Increase or decrease in household members
Change in self-employment activities
Change in the scheduled hours care is needed
Beginning or ending a full time educational or training activity;
Change in child care providers
Change in address or residence
Change in marital status
Beginning or ending participation in SNAP E&T or Kentucky Works activity
Beginning or ending receipt of any type of unearned income.
How do I report changes to CHFS?
You can report changes to CHFS by calling DCBS or visiting your local DCBS office.