Good to go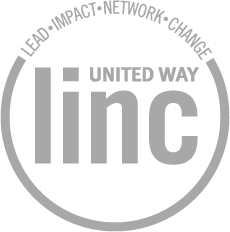 LINC is where young professionals unite for the greater good. You can make a meaningful, measurable difference by joining a thriving network committed to improving our community while enjoying all it has to offer.
Help us set a prime example of a community where people achieve their fullest potential through early childhood success, youth success, financial independence, and healthy lives.
Thursday, February 25th
LINC Trivia Night
Thursday, December 12 at Prohibition Craft Spirits Distillery
Miracle on Baxter Avenue
We made over 250 winter care packages filled with winter essentials like socks, scarves and gloves, along with decorated stockings, Holiday cards and candy bags that were distributed to Neighborhood House, Louisville Youth Group and the Arthur S. Kling Center! While we were hard at work being Santa's elves, we also enjoyed Wick's pizza and a holiday cocktail courtesy of Prohibition Distillery.
Thursday, October 17 at Impellizzeri's Pizza
LINC Trivia Night
We brought our game faces for LINC's first-ever trivia night! We had friendly competition for a good cause and the winning team got an awesome prize! 10% of all the food and drink proceeds that night were donated to Metro United Way!
Thursday, August 15 at V-Grits & False Idol Brewery
2nd Annual Brews & Backpacks
As children across the region head back to school, the 2nd annual LINC Brews and Backpack event worked to ensure that kids return with the essential school supplies they need to succeed. Young professionals from the Louisville area came together to pack 300 school backpacks complete with pens, pencils, glue and other items area children need for the school year.
The backpacks were then distributed through seven nonprofit agencies with which Metro United Way is partnered out to the school children.
Thursday, April 18 at Home of the Innocents and Copper & Kings
Backyards & BBQ!
To play our part in Mayor's Give a Day Week of Service, we came together to prepare the outdoor spaces at Home of the Innocents for summer play and then headed across the street to Copper & Kings to treat ourselves to their signature cocktails and Feast BBQ.
Thank you to our hospitality sponsor: UofL College of Business MBA Programs
Thursday, December 13 at Rabbit Hole Distillery
Smiling's My Favorite
Our latest LINC event definitely made Buddy the Elf proud because there was lots of Christmas cheer being spread around! Almost 100 LINCers showed up at Rabbit Hole Distillery to try special mocktails and eat incredible food from The Mayan Cafe. They then went to work to create special snowmen made out of essentials and gifts for 32 young adults chasing their dreams at the new Frank and Paula Harshaw campus for foster care alumni at Family Scholar House. Thank you to everyone who helped make this happen and especially to our LINC sponsors, Frank and Paula Harshaw! ⛄️
Thank you to the generous support from our event sponsor: Frank and Paula Harshaw
Get Noticed
Text LOULINC to 51555 to stay informed of all of our upcoming events, or email Brian Eichenberger.
SERVICE + $ = CHANGE
Together we can make the counties of Bullitt, Jefferson, Oldham, and Shelby in Kentucky — and Clark, Floyd, and Harrison in Indiana an example for the rest of the nation (and world, for that matter). We have the know-how, the resources, and the gumption. Now we just need people like you to help make it happen. Please consider making a donation.